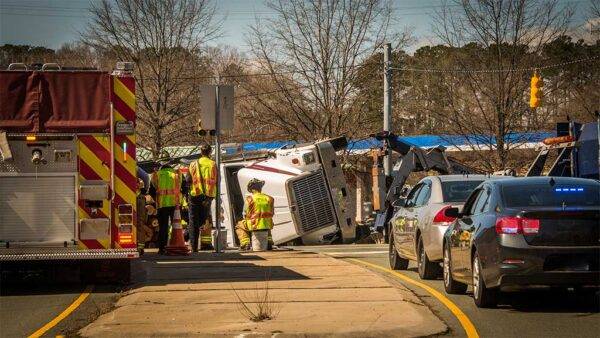 Get legal help now! The Echavarria Law Firm negotiates with insurance firms, secure compensation for serious injuries, and holds liable parties accountable. Get a free case evaluation—call 210-320-5633 or visitus online.
Commercial vehicles are significantly bigger and heavier than regular passenger cars. As a result, an 18-wheeler truck incident can lead to far more severe casualties and long-term implications than a collision involving two automobiles like a truck or cars. If you or a close relative has been injured in a major truck accident, you understand how terrible these collisions injury can be.
Best Truck Accident Attorneys & Truck Accident Lawyers Of Our Law Firm
Our legal team at The Echavarria Law Firm analyzes and prosecutes heavy truck accidents, including tractor-trailers, 18-wheelers, semi-trucks, garbage trucks, and delivery vehicles. We assist truck accident personal injury victims and survivors of accidents truck, as well as people who have lost their dear ones in heavy accident or truck collision.
You may rely on us to do the following:
Assist you in comprehending all parts of your case

Initially, we provide a free consultation.

After a free consultation, we conduct a thorough investigation into the reasons for your accident.

Make a list of all available compensation sources.

Seek advice from professionals such as accident reconstruction specialists.

Help you with document management and organization.

Gather and save evidence from backing up your claim.

Interact with other people on your behalf.

Strive for a full insurance settlement by negotiating vigorously.

If you can't reach an agreement, go to court to fight for your rights.
Following Commercial Trucking Accidents, Our Attorney Will Be Collecting Evidence
After such an accident, it's critical to seek legal assistance from accident attorneys truck accident lawyers who can work with specialists and accident repair services to figure out what went wrong. Truck crashes are frequently complicated. A truck driver and the trucking firms that employ them are subject to special rules. Violations of these criteria may show that the accident was caused by someone's negligence and can cause personal injury or car accident.
Identifying Liability Following a Truck Accident (18 wheeler accidents or Semi-truck Accident )
Following a truck accident, there are a variety of persons that may be held liable for damages depending upon the final report. Depending on the specifics of the case, they might involve the trucking firm, the truck manufacturer, the repair business, the cargo transporter, and others. Since the risks in a accident lawsuit are typically significantly greater, you can be confident that every possibly culpable party will be represented by a legal counsel. You need accident attorneys who will battle for your rights and stick up for them.
Identification of all parties responsible for the accident is an important step in obtaining full reimbursement for all losses. Our business has extensive experience researching truck accidents or car accident and has access to highly regarded expert resources with experience in trucking accidents to assist us.
After a Truck Accident, Claim Full Compensatory Damages & Personal Injury With Our Truck Accident Lawyer
It would most likely be difficult to obtain the due reimbursement for your accident losses. Insurance companies fight feverishly to keep payments low in big rig disaster cases, and agreements are usually convoluted.
Many San Antonio accident or semi-truck accident cases are more difficult because crashes involving huge trucks, semis, and tractor-trailers can result in substantially more serious bodily and property damage. As a result, the typical heavy accident insurance claim is rather costly. As a result, insurance companies will do everything possible to deny complaints and lower the value of claims.
Another complication in the settlement of an accident involving an 18-wheeler is the possibility of many parties being found liable for the disaster. A vehicle driver's trucking company, the business that possessed the truck, the firm that built any cargo being transported, or the loading organization that loaded cargo onto the truck might all be held liable. Each one of these entities has a vested interest in rejecting liability, and they all have insurers and lawyers (truck accident lawyers) fighting against you to preserve their bottom lines.
You may be tempted to seek accident compensation or semi-truck accident compensation from trucking company if you have mounting medical costs and other bills. Many accident victims are distressed, and insurance firms are aware of this. They take advantage of this by making lowball proposals in the hopes of rapidly concluding discussions.
Unfortunately, this type of agreement seldom covers all of your expenses, leaving you with little choices if you wind up with long-term effects. Regardless of whether you settle for an insurance claim or go to court, an expert San Antonio tractor trailer accident attorneys and truck accident lawyers who have experience in trucking accidents, will assist you in pursuing just compensation trucking company for damages such as:
Current and future medical expenditures linked to your injuries

Physical impairments in the past and future

Loss of present and future earnings opportunities

Emotional damage, PTSD, and mental distress

Loss of pleasure in life or companionship with dear ones

Rehab, medicines, hospital instruments, and in-home care expenses

Additional treatment-related costs, such as getting to and from appointments

Injuries that have caused you pain and suffering
Time Frame for Filing an 18-Wheeler Accident Claim
Each jurisdiction in the US has its own set of regulations limiting the amount of time claimants have to file specific types of suits. Mandatory minimums are the name given to these requirements. In Texas, personal injury claims have a two-year statute of limitations. If you were injured in a San Antonio 18-wheeler truck incident or a few less wheeler accidents and were unable to reach an agreement, you have 2 years from the date of the occurrence to file a personal injury claim in court. However, in certain circumstances, the time restriction is less than 2 years, so you should see truck accident attorneys to understand your options.
A couple of years may seem to be a long period initially. Assess how long it will take you to recover from your injuries, build a compelling case, and arrange an insurance settlement that has one or more insurers. Take into account that you'll have to act quickly to ensure that you have exposure to as many judicial options as possible and that evidence is both approachable and reliable.
Truck Accident Victims FAQ
What is the number of huge commercial vehicles on the roads?
According to the National Highway Traffic Safety Administration (NHTSA), there are 10,659,380 heavy trucks licensed. Compared to 8,454,939 motorbikes, 118,677,080 light trucks, and 127,091,286 passenger vehicles, there were 8,454,939 motorcycles, 118,677,080 light trucks, and 127,091,286 passenger cars.
How often do truck accidents happen?
According to the National Highway Traffic Safety Administration, 3,964 persons were killed and 95,000 were wounded and got the injury in traffic collisions involving heavy trucks in one previous year. As per the Texas Department of Transportation (DOT), commercial automobiles were involved in 4,950 traffic incidents in San Antonio alone in one year.
Why are truck-related collisions so much more dangerous than other types of collisions?
A completely loaded 18-wheeler may weigh upwards of 80,000 pounds. A normal passenger vehicle is only 4,000 pounds in weight. Whenever a commercial truck moving at motorway or highway speeds clashes with a considerably smaller and lighter passenger vehicle, the resulting damage to the passenger car occupants can be severe.
The passengers of vehicles in Texas crashes between huge trucks and lightweight vehicles frequently suffer significant or disastrous injuries, like brain injuries or cord injuries. Most of these injuries leave people unable for the rest of their lives, and others are deadly. According to the National Highway Traffic Safety Administration, just 691 individuals were killed in huge truck collisions injury in a recent year, while 2,834 were passengers in other cars.
Is there a difference between large truck accident claims and car accident claims?
Accidents involving large commercial trucks are more likely to result in deaths, and casualties are typically more catastrophic. As a result, the risks in insurance payouts and lawsuits resulting from a truck crash are typically higher. Another distinction is that corporate trucking is heavily regulated by the federal government. Furthermore, many parties may be accountable for injuries in huge truck accidents, although, in passenger vehicle accidents, only the truck driver fault is normally liable.
What are some of the ways that commercial motor vehicle drivers create collisions?
Commercial truckers may be under-trained and can cause wheeler accidents in terms of driving abilities and safety. Compensation schemes for wheeler accidents that promote greater driving durations and better speeds are frequently used to motivate them. They may also be working under employer stress to fulfill an unreasonable deadline, which can lead to driver tiredness.
As per 18 wheeler accidents research conducted by the National Highway Traffic Safety Administration, a variety of variables cause accidents involving large commercial vehicles, which include the following:
Going too quickly for the conditions.

Changes in cargo.

Deplorable road conditions

Loss of control by the driver.
Which federal agency is in charge of heavy trucks?
The Federal Motor Carrier Safety Improvement Act of 1999 created the Federal Motor Carrier Safety Administration (FMCSA) on January 1, 2000. The goal of the organization is to reduce the number of accidents and fatalities caused by commercial motor vehicle crashes. The organization is concerned with professional driver licensing, regulatory requirements, and prosecution, among many other things. The FMCSA's times of service standards limit commercial drivers' driving time, impose standard rest breaks, and limit the number of hours they can work in a week.
When should I submit a claim following a huge truck accident?
The sooner you speak with an experienced San Antonio truck accident lawyer (truck accident lawyers), the safer. Documentation for your san antonio truck accident case is more probably to be accessible shortly after the incident, and eyewitnesses should be interviewed while the events and circumstances are still vivid in their memories. You must also remember that filing an official injury complaint or injury objection in Texas is subject to a limitation period, which is a legal deadline.
Conclusion
Vehicles for commercial use may weigh up to 80,000 pounds. They have the potential to bring disastrous effects if they are not driven safely. Too frequently, truck drivers and transportation corporations' recklessness permanently change the lives of innocent people.
Several persons may be held legally liable for a collision involving a commercial vehicle due to their carelessness. And you'll need an experienced San Antonio truck accident lawyer or truck accident lawyers to advocate for your defense rights in court. Contact our truck accident attorney and injury lawyers to get the best services. Our experienced truck accident lawyer will undoubtedly assist you in receiving the money you are entitled to.